---
New for 2013:  
Conscience Behind Bars 
The Prison Letters of Norman Lowry
FREE PDF BOOK  (also available as paperback)
Arrested for his acts of faith-inspired civil disobedience, Norman Lowry reflects from his prison cell on what it means to follow Jesus in a culture of perpetual war-making.
---
Nativity mural at Batahola Norte
Community Center in Managua,
Nicaragua. (click image to enlarge)

Special Features & Links

---
www.ServiciosKoinonia.org (in Spanish / en Español) recursos de teología de la liberación, espiritualidad de la liberación, servicio bíblico latinoamericano, calendario bíblico litúrgico, Martirologio Latinoamericano, Monseñor Romero, Pedro Casaldáliga, Leonardo Boff, Maximino Cerezo, biblioteca, Revista Electrónica Latinoamericana de Teología, Libros digitales gratuitos, Agenda Latinoamericana, Cursos de Teología Popular
---
October, 2011
Breaking News: Protesters Speak Out
Against Endless War and Reckless Greed
---
January, 2011:
A European Revival of Liberation Theology
Article by Ulrich Duchrow
in Tikkun Magazine
---
August, 2010:
Glenn Beck vs. Christ the Liberator
Article by Rev. James Martin, S.J.*
---
2011 Book & Online Exhibit
Nicaragua: Surviving the Legacy of U.S. Policy
Paul Dix, Photographer
---
November 2008
"Green" liberation spirituality:  Joanna Macy streaming video
a library of recorded workshops and lectures (free)
---
May 2008
A Fiery Theology Under Fire
Michael Powell article in The New York Times
---
  
Getting the Poor Down From the Cross (free PDF boook)
brings together the latest thinking in the global
Liberation Theology community.
---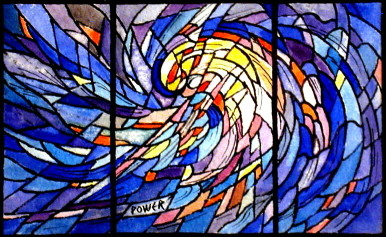 Spiral design for stained glass window from J. & R. Lamb studios,
suggesting the dynamic and transformative workings of the Holy Spirit;
now in U.S. Library of Congress.  [20th Century. Date unknown.]
I N T R O D U C T I O N   A N D   O V E R V I E W
This web site presents Liberation Theology/Theologies as efforts to think clearly about the meaning of religious faith in the context of oppression, war, poverty, inequality and environmental destruction, and the effort to live a compassionate, courageous and life-sustaining response to those conditions.  Over the past several decades, people inspired by different strands of Liberation Theology have sought to give voice to a response that both addresses the needs of those who are injured and oppressed in a particular place and time, and also a response that works to change the structures and ongoing processes of injury and oppression.
Liberation theologies vary greatly according to the cultures in which they arise, but their underlying themes are immediately recognizable across the world: the transformation of everyday life through a new awakening of compassion, courage, truthfulness and justice.  Liberation theology and theologies, singular and plural, are works in progress, born out of enormous pain and extraordinary hope, efforts which are sure to inspire many and probably offend many, as well. We hope you will be inspired by what you find here, and also that you will explore these worlds of thought and feeling with empathy and patience for the concerns of those with whom you may disagree.  [DR]
* Editor's note concerning permissions and endorsements:  There are many disagreements and controversies within the world of liberation theology.  Books, essays, articles and organizations listed on the pages of this site are listed here because they are available on the Internet, and are, in the opinion of the editor, part of the permanent intellectual public record of liberation theology as it has developed over the last century.  The presence of a link on this site should not be taken to imply that the author of the linked document knows, permits, endorses or approves of this site, or of any of the other linked documents on this site.
---
---